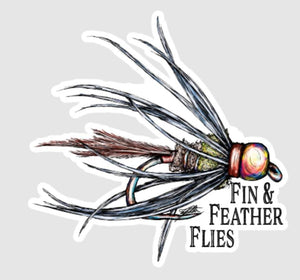 Fin & Feather Flies "How I started"
Fin and Feather Flies 
To start off this blog post I'd like to welcome you to the new website and thank you for checking us out! It has been exciting getting kicked off and I can't wait until fly fishing season is in full swing! Today's blog post/feather report / whatever we end up calling it is going to give you the back story of how I started Fin and Feather Flies and a little bit about me as well.
My name is Cody Griffin and the owner of FinandFeatherFlyFishing.com and Fin and Feather Flies. You might follow me on Instagram @FinandFeatherFlyFishing. I am an Arkansan born and raised and currently reside in Wynne, Arkansas "The city with a smile"! My best friend Ben "AKA BenJ" that lives in Georgia says they misspelled smell. Who is he to talk! He lives in Georgia! Traitor! Anyways, I work for the University of Arkansas Cooperative Extension Service (Takes a deep Breathe) For St. Francis County as the County Extension Agent and Staff Chair. If you think that is a mouthful you should read my job description. It will most likely be longer than this blog post. Basically I am an education resource for any and all things agriculture for my local community. That includes farms, yards, gardens, trees, beekeeping, the list goes on and on. However when I am not being Agent Griffin on the Job I am behind a vise or on the river with a fly rod in hand.
I think I knew how to hold a fishing pole before I could walk. It kind of just something you grew up doing in my family. My grandpa is a diehard crappie fisherman and his buddies said that he dropped out of grade school so he could go fishing and never came back. Guess that worked out for him because he made a good living being a farmer. I use to fish for crappie with a long crappie pole and one of those old automatic fly reels. I loved it growing up. Over in the Arkansas Mississippi Delta there was plenty of fishy water to get into growing up. Every summer my dad would take my brother and I up to Norfork or White River and we would go fish for trout and it was a blast.
Fast forward to 2018, I have been out of college and working for extension for a few years now and have started working on a Master's Degree in Education. I currently have a bachelor's in Crop Science with a Minor in Entomology from the University of Arkansas. "Woo Pig!" At this point so far in my career I had a lot on my plate and had not taken a lot of time for myself and the things I love such as hunting and fishing. I was pouring everything I had into my job and wasn't getting back what I was putting in. So to start relieving some stress I pick fly tying back up as a therapeutic release from the stresses around me. I had rekindled my passion and started spending a lot of time behind the vise. Then in March of 2018 I got a call early in the morning that my little brother had been in a car accident and was air lifted to the hospital in Memphis. We had no idea what to expect when we got there. We sat in the waiting room for hours not knowing anything. Luckily he survived and woke up later that day and was released that afternoon with some major swelling and a bad cut on his hand that would need a few surgeries to repair.
After getting this wakeup call I realized that you have to make time for the things you love because you never know what can happen. So for the next few months I am burning up the road between my house and the river and spending a lot of time behind the vise. I made sure I got closer with my brother and my family and everything was good. Then in July I got another call…
This time it was much worse. My brother had tragically passed away and my world was flipped completely upside down. We had no idea how or why or anything. The amount of grief I was dealing with was overwhelming and it was everything I could do to pretend that I was okay and put on a strong face for my family and for myself to get me through each day. I buried myself and my grief into fly fishing. Spending every available day, hour, minute, fishing, thinking about it, tying flies, or dreaming up big ideas to accomplish. Anything to take my mind off it. Fly fishing was the only thing that could pull me out of my grief and allow me to keep some kind of sanity.
On my brother's birthday September 4th, this past year I started Fin and Feather Flies. One thing I knew after my brother passed was that life is too short not to chase your dreams and follow your passions. If you keep putting your dreams off, they will never come to fruition. So I began to really work towards those dreams.
I now have sold flies all over the United States and here locally. I teach kids how to tie flies and to fly fish as well. Though fly tying has been the center of my attention a lot of success on the river has lead me to providing guided fly fishing trips on my local river the Little Red. After selling flies via Facebook, Instagram, Etsy, and in person I felt like it was time to start my own website and offer a central location for all my products! As fly fishing season progresses so will the inventory on the website! Also be on the lookout for hats and shirts in the future! They are in the works!
If you have made it this far into the blog I would just like to sincerely thank you for supporting me and Fin and Feather Flies. I would love to hear any feedback from you!
---