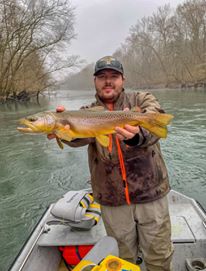 Feather Report 2-5-19
Good Afternoon and welcome to the very first feather report! If you are reading this I would like to thank you for visiting our new website finandfeatherflyfishing.com. We are just getting up and running and would love to hear your feedback! I am currently working on adding product to the online store as well as fill orders to all of you that have been ordering from me already through etsy and instagram! If you haven't checked out the fly shop yet go take a look! Mix and match your dozen and that isn't even the best part! Build your own custom variations by using the drop down menus while checking out. 
Now to the fishing report (feather report). Little Red River 2-5-19
I think we can all agree that we are very tired of the current generation schedule and closely eyeing the the water levels waiting for us to get to the top of power pool. Some good wading opportunities might just be the river therapy that we all need. However all the rain we got today shut those dreams down for now. Right now it is streamer season and if you want to target big browns...big streamers are the way to go! Throwing streamers on a 6 - 8 wt will get the job done. Double Deceivers, Sex Dungeons, my mini marabou sculpin, and woolly buggers are my go to patterns right now. Stripping these streamers near the bank and near structure have proven effective. 
For those who are nymphing:
Just because I am throwing streamers all day doesn't mean nymphing is out of the question. If you are looking to catch more fish and save your shoulder nymphing would be the way to go! Check out my nymphs patterns in the store. I would be throwing Pheasant Tails, Jigged Pheasant Tail Soft Hackles, and midges. Egg patterns are working great right now as well. With the muddy water we should expect for the next few days a squirmy worm or San Juan worm would be worth a shot! 
Thanks for checking us out and reading the first feather report! Please give me any feedback you have by emailing finandfeatherflyfishing@gmail.com or follow us on Instagram @finandfeatherflyfishing
---